Got just the Jobby Bobby . . . . . need to get a paper round or summit tho.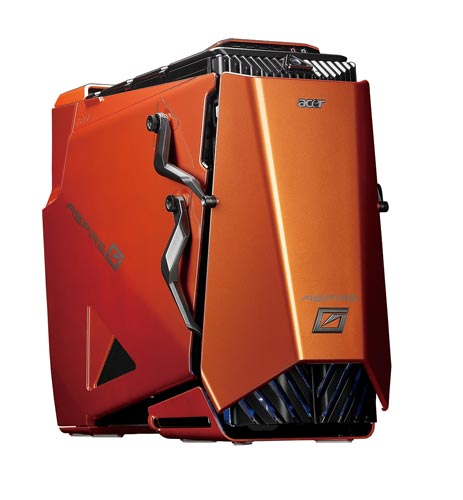 Lifting the lid transforms the machine into a fierce hi-tech wonder, complete with blue LEDs and claw-like ODD doors. Hidden beneath the attractive blue glow is the Acer EasySwap HDD cage, conveniently located for fast expansion and replacement of hard drives. RAID capable, EasySwap technology offers hot-swap functionality when RAID is enabled. Radical angles dance across the surface, contrasting with the rugged patterned under-layer. A triangular button and convenient front mounted USB and audio ports place key controls and jacks right at your fingertips.
Processing power is central to the Troopers extreme abilities; this is via a 2.66GHz Intel Core 2 Quad QX9450 Processor (1333MHz, 12MB Cache). Supporting the processor is 4GB of DDR2 800MHz memory.
Where the Acer Aspire G7700 Trooper really comes in to its own is with graphics processing power. The Trooper has not one, but two 512GB nVidia GeForce 9800GXT cards in SLI format - SLI technology delivers more than twice the performance of a single graphics solution by combining the forces of two graphics card.
For storage of all your games, music and videos, the Trooper has a massive 1.2TB Hard Drive (2x 640GB).
To keep the computer powering along, the CPU is liquid cooled - liquid cooling offers significant performance advantages to traditional fan-based cooling methods. Using a constant flow of water and rear-mounted heat sink, liquid cooling ensures your CPU runs cool even under the most demanding conditions.
Expanding the Troopers multi-media credentials is a Blu-Ray reader DVD drive & DVD rewriter as well as a 12-in-1 card reader and Hybrid Analogue and Digital TV-Tuner card. Networking is offered in the form of Gigabit Ethernet (Wake-on-Lan ready) (Dual LAN Support), WLAN 802.11g/b and 56k modem (Wake-on-LAN ready).
Intel Core 2 Quad Q9450 Processor (2.66GHz, 1333MHz FSB, 12MB Cache) Genuine Windows Vista (R) Home Premium 4GB DDR2 800MHz memory
2x 512MB nVidia GeForce 9800GXT
1.2TB hard drive (2x 640GB) Liquid CPU cooling Blu Ray reader and DVD Rewriter 8x USB connections 1x Firewire connection Full product information about Acer Aspire Predator G7700 Trooper Gaming PC Hide product information about Acer Aspire Predator G7700 Trooper Gaming PC
Full specification Benefit
Processor Type Intel Core 2 Quad Q9450
RAM Memory 4096 MB
Hard Disk Capacity 1280 GB
Graphics Memory 512 MB The higher the memory the better quality images you are display
Graphics Description 2x nVidia Geforce 9800GTX
No of USB connections 8 The more connections the computer has the more equipment you can connect to your computer e.g. modem, printer, scanner, digital camera, PDA
No. of Firewire Connections 1 High speed data transfer link for digital video and other media. Ideal for quickly downloading video images from a camcorder to PC
Keyboard YES
Mouse YES
a mouse too wow
oh price, . . . . . . . . WELL JUST A COOL
£2,347.67
MIGHT WANNA GET DONNA TO GET A PAPER ROUND TOO.